Shimara Carlow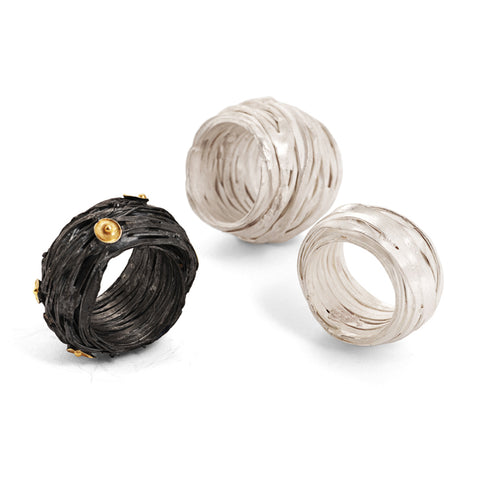 Born in a remote coastal area in West Cork, Southern Ireland, a childhood fascination for collecting shells, stones, mermaid's purses, feathers and seed pods found along the seashore has been the inspiration for my work.
My jewellery has been inspired by natural forms, primarily seedpods and I have created a body of work based on pod like structures. I use silver, 18ct gold and precious stones to create my jewellery.
Collections include ""acorn cup cluster", clusters of individual acorn cup units assembled to hang in long articulated chains which adorn the body and "honesty", whitened and reticulated silver ovals, which resemble honesty leaves. My classic "wrap" rage, inspired by birds nests and natural structures, hammered and textured wire, is wrapped and woven to produce unique pieces that are beautifully simple and elegant, along with "daisy"; reticulated silver hand formed cups, with 18ct gold bead detail, assembled into rings pendants and earrings.